All products sold are covered by the "Legal Guarantee" of conformity provided for in Articles 128-132 of the Consumer Code.
By virtue of the "Legal guarantee" Anima Srl is liable for defects of conformity that become apparent within 2 (two) years of Product Delivery.
The legal guarantee provides that the Consumer, under penalty of forfeiture, denounces to the Producer the event otherwise of conformity found in the product purchased within 2 (two) months from the discovery (art. 132, Consumer Code). Following this complaint, the Consumer will obtain the right to request the repair or replacement of the Product, without prejudice to the other rights provided by the law in favor of the Consumer.
WARRANTY CERTIFICATE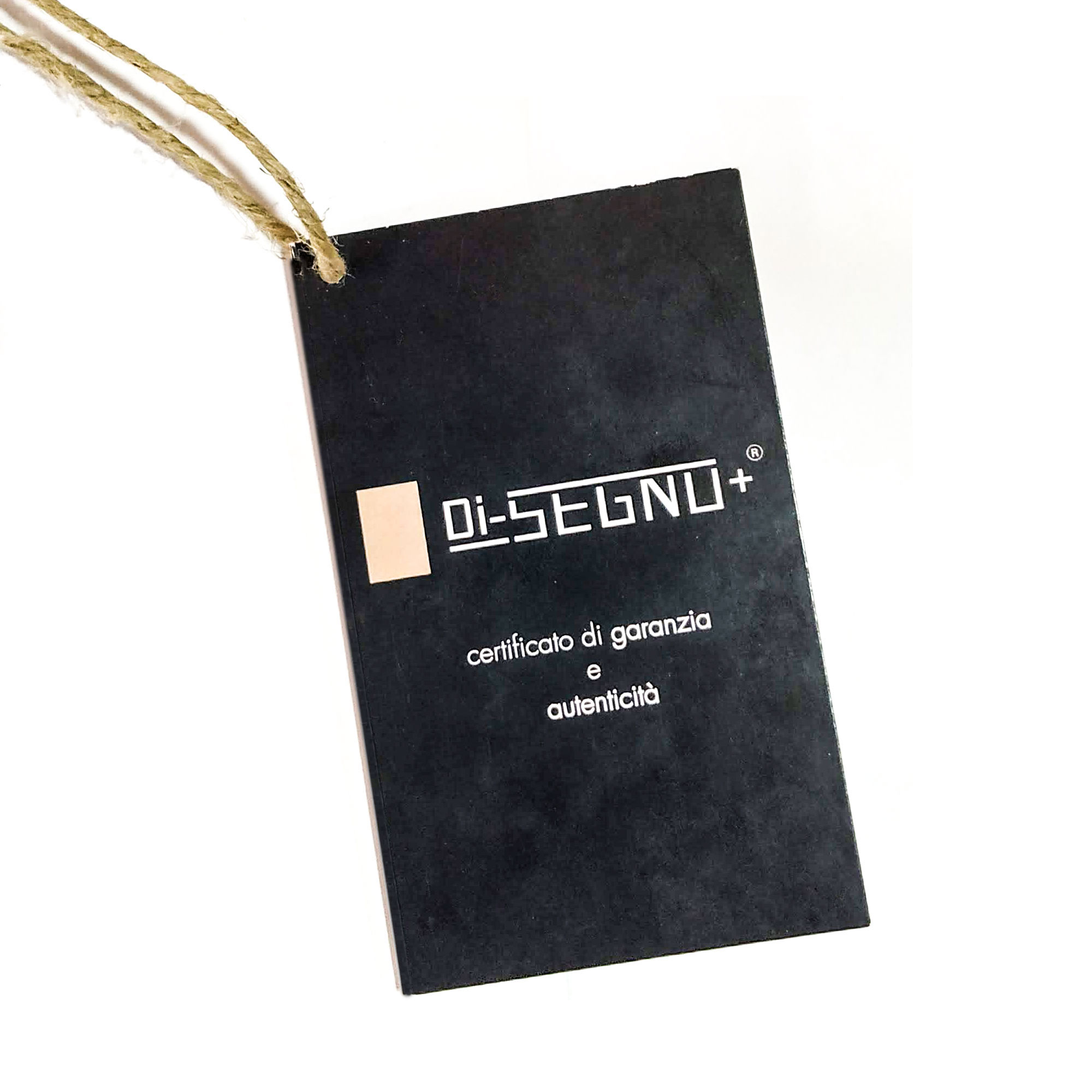 This certificate is sent with all Disegnopiù products and certifies that:
The product is an original Disegnopiù creation, handmade in Italy.
Creative minds and wise hands have molded the finest materials.
Each product presents, due to its handmade constitution and the naturalness of the materials, slight differences, these, far from being defects, are other manifestations of the non-serial nature of production, or the affirmation of an exclusive and personal object.
Each piece is a different piece.
Each piece is unique.
This is 

CARE AND CLEANING OF OUR PRODUCTS
For the care and maintenance of our products use a damp microfibre cloth, do not use aggressive detergents. The use of detergents could damage and / or modify the finishes of our products, effectively canceling the warranty.
WARRANTY EXCLUSION
Products repaired, modified or in any way altered by the user are excluded from the legal guarantee. Excluded from the scope of the Legal Guarantee are any failures or malfunctions or defects of other types of accidental costs or from the user's responsibility or from a use of the product that does not conform to its intended use and / or as provided in the technical documentation attached to the product, where existing, or in the instructions for use relating thereto.
WARRANTY APPLICATION
For the customer can contact Customer Service at [email protected], which will be a provision to offer any useful information for the purchase of their rights.
Also the Professional Customer, as defined in the art. 3 of the Consumer Code, has the right to avail of the legal guarantee provided for in the Civil Code. The legal guarantee in this case is valid for a maximum period of 12 (twelve) months from the delivery of the product and, provided for, a penalty of forfeiture, the communication to the seller of any defect found in the product purchased within 8 (eight) days of discovery .
In order to take advantage of the Guarantee, we reserve the right to keep the purchase document.
PERSONAL DATA
For any information regarding personal data, including the rights referred to in art. 7 of Legislative Decree 196/03, please refer to the detailed information